The hungry feline terrorised a village snatching and eating guard dogs in Aleksey-Nikolskoye, even forcing scared children to miss classes.
One of the world's largest cats held an entire village in fear. The endangered female Amur tigress snatched guard dogs to feed her two cubs.
Her behaviour is new to experts, but is perhaps the result of a rare species in recovery thanks to a crackdown on poaching in the Russian Far East.
Despite this, Siberian – or Amur – tigers are one of the most endangered species on the planet, with only 550 or so animals still surviving in the wild.
This particular cat was regularly stealing dogs from the village of Aleksey-Nikolskoye, some 40 km from Ussuriysk in the Primosrksy region of eastern Russia.
There was a real danger that fearful locals would shoot the rare tigress.
Or that the tigress could attack humans.
An operation was put in place involving conservationists and hunting supervisors aimed at saving and relocating the tigress and her two cubs.
It was not easy. The tigress behaved in an 'unusual way'.
The big cat 'was not afraid of street lights – or people shouting'.
Rangers last month caught the animal and sent her to a rehabilitation centre. They named the tigress Kozachka.
Next, they searched for her cubs. But their trail went cold.
Finally a search on horseback found them with the help of villagers in Borisovka, Krounovka, Putsilovka 'who helped us catch the cubs'. They were sedated and reunited with their mother.
It turned out they were both female, aged around seven months. The mother was no longer breast feeding them.
The next stage is now in the planning.
The hope is to release the mother and her two cubs in May into the wild but in a new area – far from any villages with tethered guard dogs she can hunt.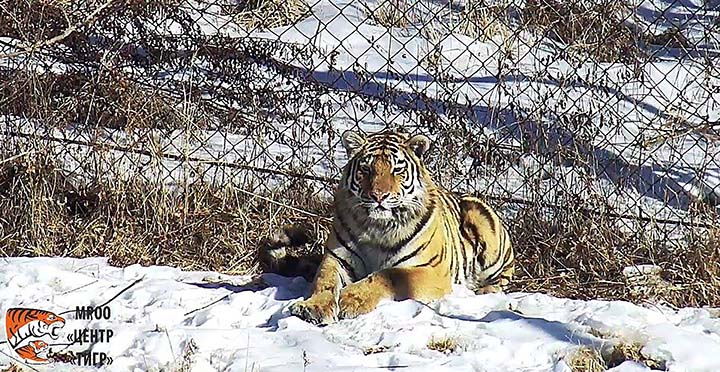 This particular cat was regularly stealing dogs from the village of Aleksey-Nikolskoye. Picture: PRNCO 'Tiger Center'
A fear is that she may have been injured in some way, and this is why she chose dogs instead of her natural wild prey.
But rangers believe she can revert to being a wild tigress, not creeping into villages for her next lunch.
It is the first time such an operation has been mounted.
Saving the dog-eating tigress involved the Primorsky regional hunting supervision department, the Amur Tiger Centre, WWF Russia and the PRNCO Tiger Centre.